Low-Cost, Flat Rate Pricing on Custom Flex Foil Heaters
POLYIMIDE & HIGH TEMP POLYESTER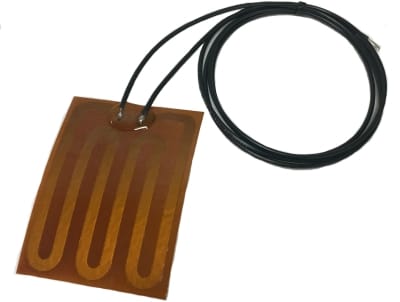 No need to wait for a quote or wonder what your custom heater will cost. TurboFlex makes it easy and fast with flat-rate pricing.
Depending upon volume, heaters typically ship in 24-48 hours, including design and set up.
Follow the steps below to calculate the low-cost pricing for your custom heater. 
     Ensure your heater's resistance density is no higher than 1.4 ohms per square inch in order to meet our manufacturing capabilities.

     Select your material option by determining your maximum continuous operating temperature. Our high temp polyester is 275°F / 135°C continuous operating temp and our polyimide is 350°F / 175°C continous operating temp.

High Temp Polyester: 275°F / 135°C continuous operating temp.

Polyimide: 350°F / 175°C continuous operating temp.

Maximum heater length of polyimde is 17″. Maximum heater length of polyester is 35″.

Minimum heater size of 4 square inches. Contact us for smaller parts.

Overall thickness of heaters: Polyimide .008″ plus .002″ PSA and .011″ Polyester plus .002″ PSA.
12″ teflon insluated wires.

Clipped wire ends.

Wire gauge to be determine by TurboFlex. Customer to supply operating voltage level.

Resistance Density: 1.5 ohms per square inch maximum.

Insulation pad over wire attach joints: .220″ high.

No sensor devices or assembly.

Minimum width of .75″.
Pricing includes back side PSA or no PSA.

Tolerances: +/- 10% of targeted resistance, +/- .075″ dimensional and hole locations.

All holes are traditional fractional sizes.

Resistance variance part to part, order to order: +/- 3%.

Performance data is for reference only. Customers are responsible for validating performance in their application.

Heaters shipped flat.
Minimum total order of $350 (can combine models to meet the requirement with a minimum of $125 per model).
Prepay for orders up to $1,500. Credit terms available for larger orders pending approval.