UltraFlex Stitched Wire
UltraFlex is a cost-effective, resilient and highly flexible heating system that can be designed in a wide range of shapes and sizes and fabricated to very precise specifications. While customizable for use in a variety of industries, Ultraflex heaters are typically manufactured using multi-stranded, corrosion resistant wire, resulting in a heater with unparalleled durability, flexibility, and softness. These factors make it an ideal solution for the most demanding consumer goods as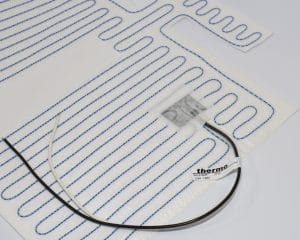 well as medical, aerospace and automotive applications.
Features and Benefits:
Highly flexible

Corrosion Resistant

Cost-Effective

Design Flexibility

Robust Construction
thermo uses modern CNC fabrication equipment to integrate numerous types of resistance wire, threads, and substrates. The Ultraflex heating system is highly customizable, accommodating a variety of power leads, harnesses, connectors, temperature sensors, and insulation. Fastening methods include mechanical, PSA and Velcro straps. In order to meet the high demands of today's engineers, the Ultraflex product line has been created to combine design flexibility with rapid prototyping, providing highly customized solutions to the most challenging situations.
Typical applications for UltraFlex include heated textiles, clothing and apparel, steel parts, medical/first response, and food service.
UltraFlex is a UL and CSA recognized construction and has passed the extensive UL safety standards tests.